---
---
Laminate Countertops
(800) 718-3806
---
Laminate Countertops
Does your kitchen need a face-lift? Have you been chopping onions on the same 70s style countertop for far too long? And have you avoided taking the plunge because you are, like most people, trying to watch the pennies or simply don't have a lot of spare pennies to put towards this kind of renovation? Don't despair. Thankfully, practical solutions exist for this quandary. Say hello to laminate countertops. Perhaps you've heard of them but don't know much about them? Simply put, laminate countertops are the answer to your dilemma. Laminate countertops are the perfect choice when it comes to giving your kitchen or bathroom that new look you've been dreaming about.

So what are they exactly? Laminate countertops are decorative plastic sheets that are constructed by combining paper and resin that are cooked and glued together (LaminateCountertops.com). The grade of your laminate countertops can be thick or thin, depending on your preference. Laminate countertops are installed as kitchen, bathroom, or even office countertops. Laminate countertops provide a whole host of benefits; just a few of them are enumerated below. First, laminate countertops are incredibly useful products that can suit any taste or style. Options upon options are out there. Myriad varieties of colors, designs, and patterns are available for your choosing. Modern, bright, subdued, country—whatever tickles your fancy, chances are there is a pattern just for you. New laminate countertops can completely change the look and feel of a room. Laminate countertops are always stylish and help make a room look simply wonderful.
---
---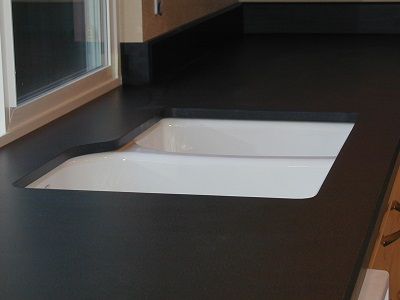 ---
Another key advantage of laminate countertops is that they are amazingly easy to install and can be cut to any dimension needed. And, everyone can learn how to do this. You don't need special training or to hire outside help to tackle this project. With the aid of basic how-to guides available at your local hardware store, you can learn all you need to know about completing installation of your laminate countertops. Here we come to one of the biggest perks of purchasing laminate countertops. They are cost-effective. Laminate countertops allow you to update some of the most important rooms in your home—namely your kitchen or bathroom—without spending a fortune. Sheets of laminate are extremely inexpensive compared to other products. For a reasonable amount of time and money, you can create a brand new sight to enjoy for years to come.

Other benefits of laminate countertops include the ease with which they are cleaned and kept clean. Laminate countertops impede the effects of stains and scratches, and mild soap and water will keep those counters looking spotless (www.homedepot.com). While they are many manufacturers of laminate countertops, Formica and Wilsonart are some of the leading brands available. But do your homework, and find the sheet that fits your style and budget. Take time to ensure you will be satisfied with the end result. A visit to a hardware store will provide all the materials and resources necessary to begin your project, or visit home improvement websites. You will be well on your way to feeling like you just moved into a brand new house. With just a little work, you will become the envy of your friends and neighbors. Perhaps you will inspire them to start their own renovation, and will learn the value of laminate countertops for themselves.
---
Laminate Countertops